Rochford reflects on 2017 rollercoaster ride
Previous
Next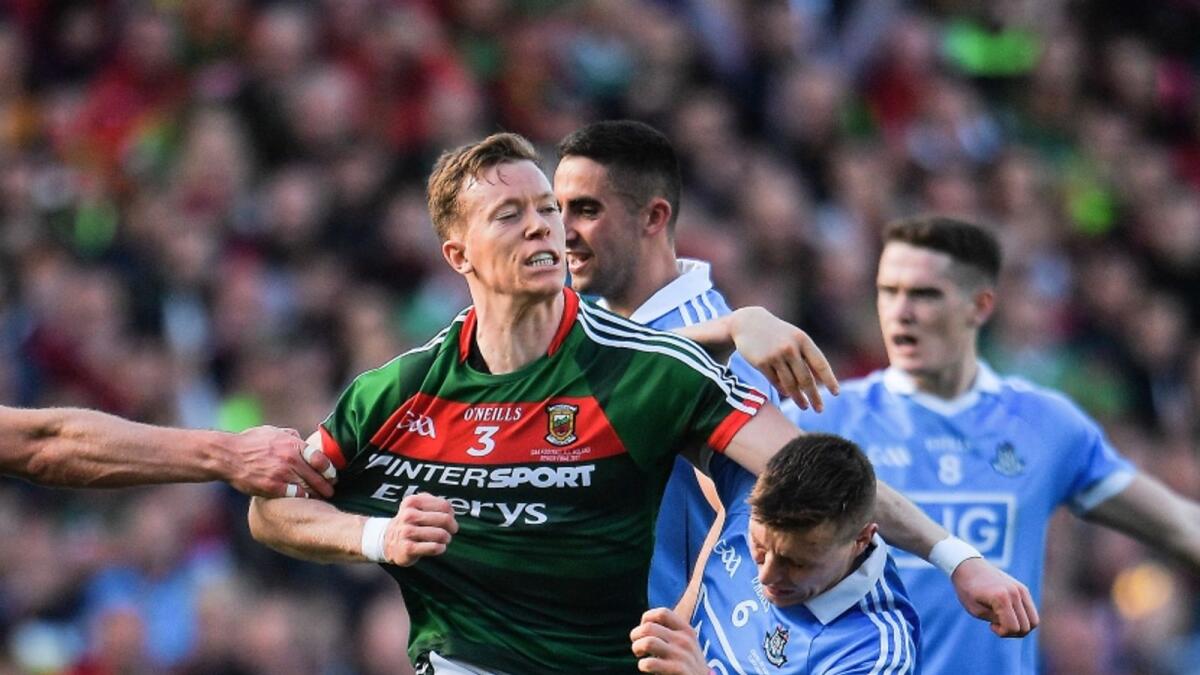 IT was with a feeling of resignation, along with a touch of boredom and a large pinch of desperation to see some Gaelic football, before I expire, that I parked myself in front of the television for the first offering from RTE's Sunday Game archives.
It can be hard to watch re-runs of Mayo's championship journeys, a few of which are almost of Biblical scale proportions at this stage, the phrase mass exodus being used on many occasions to describe the movement of a lost tribe from the west to the Promised Land in the east around the third Sunday in September (now changed to the first Sunday) in search of the Holy Grail of Gaelic football - Sam Maguire.
The imagery in Mel Gibson's powerful film, The Passion of The Christ, depicting Jesus carrying that heavy wooden cross up the steep hill of Calvary, comes to mind when I think of the countless Mayo players who have tried in vain to scale the steps of the Hogan Stand (before they started making the presentation in the middle of the pitch) only to be turned back time and time again.
If Gibson were to thumb his way through the blood and tear-drenched pages of a book that may be published some day entitled The History of Mayo GAA and a People's Search for Liberation, he may uncover a script for another historical drama tracing the journey of a lost tribe who know what suffering, pain and disappointment is all about.
Hopefully the final chapter in such a book will have a happy ending and finally vindicate Mayo's quest with the reward it deserves.
Watching replays always raises the question of what might have been if such a decision had been made or such a call been given but unless Stephen Rochford has developed new powers to see into the future and change the past, he was never going to be able to adequately answer the hypothetical question posed by RTÉ Sunday Games pundit and former Dublin player Ciaran Whelan.
Balanced
Whelan asked Rochford, who was on video link, what changes would he have made had Mayo faced a 14-man Dublin for the remaining 30 minutes of that game after John Small was red-carded following that rash tackle on Colm Boyle.
Of course, the book was balanced immediately as Donie Vaughan's understandable but crass reaction to exact retribution for Small's hit on his colleague resulted in the Ballinrobe man suffering the same fate, forcing him to follow Small to the dugout also on a red card.
In fairness, Rochford had a fair stab at coming up with an answer but wisely - and Rochie is a wise man - pre-empted any move on the chess board by pointing out that Dublin too would have rearranged the chairs given the circumstances they found themselves in and whatever about reading his own mind, reading Jim Gavin's thoughts was possibly moving into the area of palm-reading.
Rochford said there was a good chance they would have pushed Keith Higgins into a more attacking role and also give Lee Keegan more space having done a fine job in keeping Kieran Kilkenny on the margins for most of the game.
He also felt had they the extra-man they would be able to put more pressure on Stephen Cluxton's kick-outs.
Here is the gist of Rochford's thoughts.
"I would expect Dublin to make some arrangements of their own and they may have put someone back in defence to try and free up Kieran Kilkenny who was tied up by Keegan but in that scenario we would have got Lee to push up on Kieran and keep him on the back foot.
"We probably would have done some re-jigging in defence by bringing Donie (Vaughan) back to the half-back line and freeing up Keith Higgins, giving him more space and freedom to use his pace.
"I think we were well on top at that point and we would have been able to put more pressure on Stephen Cluxton's kick-outs, which we had done so well in that first half but we did not fare as well on those kick-outs in the second half with more room now in that defence for Dublin to get their kick-outs away."
Divided
Whelan also raised the decision by Rochford to put Aidan O'Shea in at full-back to mark Kieran Donaghy in both the drawn game and the replay.
Whelan said it was a big call but one that worked as Mayo advanced to reach the final, but opinions remain divided as to whether O'Shea's marking on Donaghy worked in the drawn game with the statistics showing that the Kerry ace had some hand, act or part in 2-6 of Kerry's total of 2-12.
Again Rochford pre-empted his view on the basis that any move is deemed only to be a success on the basis of the result, and this one swung Mayo's way after a second shot.
He also felt O'Shea shipped a lot of unfair criticism for his performance in the drawn game but that was something that was not shared within the camp.
Said Rochford: "We knew from previous occasions what Donaghy had done to Mayo and he was also very influential in the quarterfinal against Tyrone under the high ball.
"We felt we needed to have a plan and Aidan was relishing the prospect of marking Donaghy.
"Some might view it as radical but Aidan is an accomplished and very experienced player.
"We learned a lot from the first game and he (Aidan) was unfairly criticised, but not a lot went wrong in terms of his marking - that is not to say Kieran (Donaghy) had an influence on the game.
"We tweaked a few things for the replay and got the result."
Magnanimous
Overall, Rochford was magnanimous in his praise of Dublin.
"We lost by an accumulative two points in two games to the best team in the history of Gaelic football.
"A lot of teams have tried to take down Dublin and like us they didn't take their chances and failed to hold on to big leads and that is why they are a great team," the then Mayo manager said.
He added: "I have no regrets. Yes there are things that went wrong. All games are hard to lose but you just have to take it on the chin and move on."
And yes, Rochford enjoyed that 2017 journey.
"I remember joking with a supporter after the Cork game and said we would be giving out free cardiac tests every weekend from now on!
"They were great times. We had unbelievable support. You look at the gap that is going to be there this summer due to the current crisis and we can look back on those great journeys.
"I was proud to be on that bus with the team driving through Drumcondra and on to Croke Park."