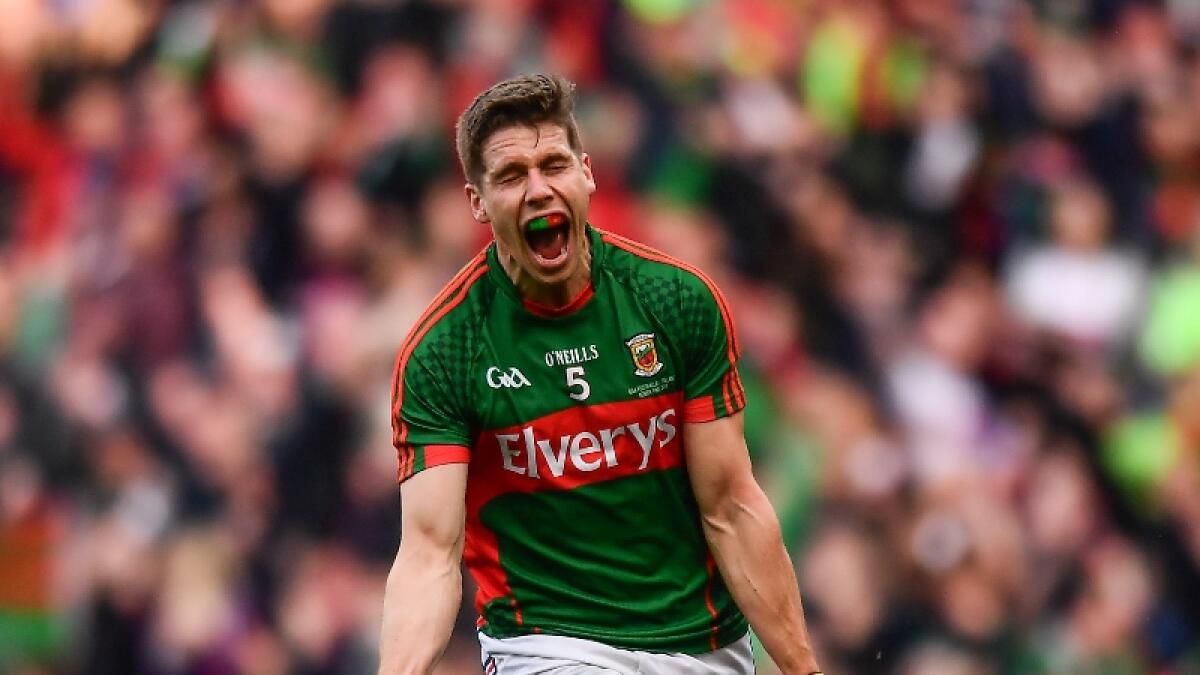 So close but oh-so-far once more
IT'S a lonely road home from Dublin for Mayo fans this evening, a road that has been travelled too often before.
How many times do Mayo have to endure the heartache of defeat in an All-Ireland final before finally winning one? Will Sam Maguire ever come to the Heather County again?
On the evidence of today's final replay you would have to answer that the talent, ambition and drive is there certainly, but those are attributes that Dublin have in abundance too. And maybe Dublin, who won back-to-back All-Irelands for the first time since1977 this evening, are simply just a little better a footballing side. In fact, there's a case to be made for naming them the best ever.
After the 1-15 to 1-14 defeat, Mayo manager Stephen Rochford expressed his pride in his players. "My heart goes out to them," he added.
The manager had to defend a selection decision that saw Robbie Hennelly start in goal instead of David Clarke. "In selecting you make a calculated decision. We felt in the analysis of Dublin they had pushed right up on our kick-outs in the drawn game and would do it again today. That was the thinking behind it."
Dublin were 0-4 ahead in no time and two of those points resulted from kick-outs that went somewhat awry. Mayo responded magnificently with four in reply from Paddy Durcan, who had a magnificent game, Andy Moran and two Cillian O'Connor frees.
Dean Rock added two more frees to go with the three points he had already scored as Dublin re-established the lead before Lee Keegan made a decisive break to take an Aidan O'Shea pass in his stride and strike low to the bottom left corner of Stephen Cluxton's goal.
Mayo failed to push on from that score, even after Jonny Cooper was shown a black card, and Rock's accuracy had Dublin ahead again before Diarmuid Connolly and O'Connor (free) traded scores.
Then a decisive moment. A short kick-out was a little too short and Connolly pounced. Sensing danger, Keegan took the Dublin attacker out of the game, earning himself a black card in the process. Rock scored the resultant free, but a Cillian O'Connor free at the other end left just a point in it at the break, Dublin leading 0-10 to 1-06.
As with the drawn game, Mayo started the second half brightly and were ahead within a couple of minutes as Cillian (free) and Diarmuid O'Connor split the posts. Rock responded with another free to level it again before the game's second big moment, a penalty for Dublin.
A long ball appeared to be of little trouble to Hennelly but he fumbled and in his attempt to gather the ball again he took down Paddy Andrews, earning a black card. David Clarke replaced Hennelly and his first job was to retrieve the ball from the net after Diarmuid Connolly put the penalty away with aplomb.
It left Mayo chasing the game. They made a fist of closing the gap but Dublin was always able to stay at least a point ahead, substitutes Bernard Brogan, Michael Darragh Macauley and, in especial, Cormac Costello proving great additions for the champions.
But Cillian O'Connor's accuracy from the placed ball kept Mayo in the game and with two to go in the six added-on minutes, his free left it 1-15 to 1-14. Then came the chance to level it when Mayo were awarded another free, albeit from a difficult position tight to the sideline. This time O'Connor was ever so slightly wide with his kick, and with that went Mayo's chance to snatch another draw. So near and yet so far. And not for the first time either. Perhaps there's something in that curse story after all...
For the record...
Mayo team and scorers: R. Hennelly, B. Harrison, L. Keegan (1-0), K. Higgins, P. Durcan (0-2), C. Boyle, D. Vaughan, S. O'Shea, T. Parsons, D. O'Connor (0-1), K. McLoughlin (0-1), J. Doherty, A. Moran (0-1), A. O'Shea, C. O'Connor (0-9f). Subs used: S. Coen for Keegan (BC), B. Moran for Parsons (blood), C. O'Shea for Vaughan, D. Clarke for Hennelly (BC), B. Moran for A. Moran, A. Dillon for Doherty, C. Barrett for Boyle.
Dublin team and scorers: S. Cluxton, M. Fitzsimons, J. Cooper, P. McMahon, J. McCarthy, C. O'Sullivan, J. Small, B. Fenton, P. Flynn, C. Kilkenny, K. McManamon (0-1), P. Andrews, P. Mannion, D. Connolly (1-1, 1-0 penalty), D. Rock (0-9, 7f), P. Andrews. Subs used: D. Byrne for Cooper (BC), B. Brogan (0-1) for Andrews, M.D. Macauley for Mannion, C. Costello (0-3) for McManamon, E. Lowndes for Small, D. Daly for O'Sullivan.
Referee: M. Deegan (Laois).