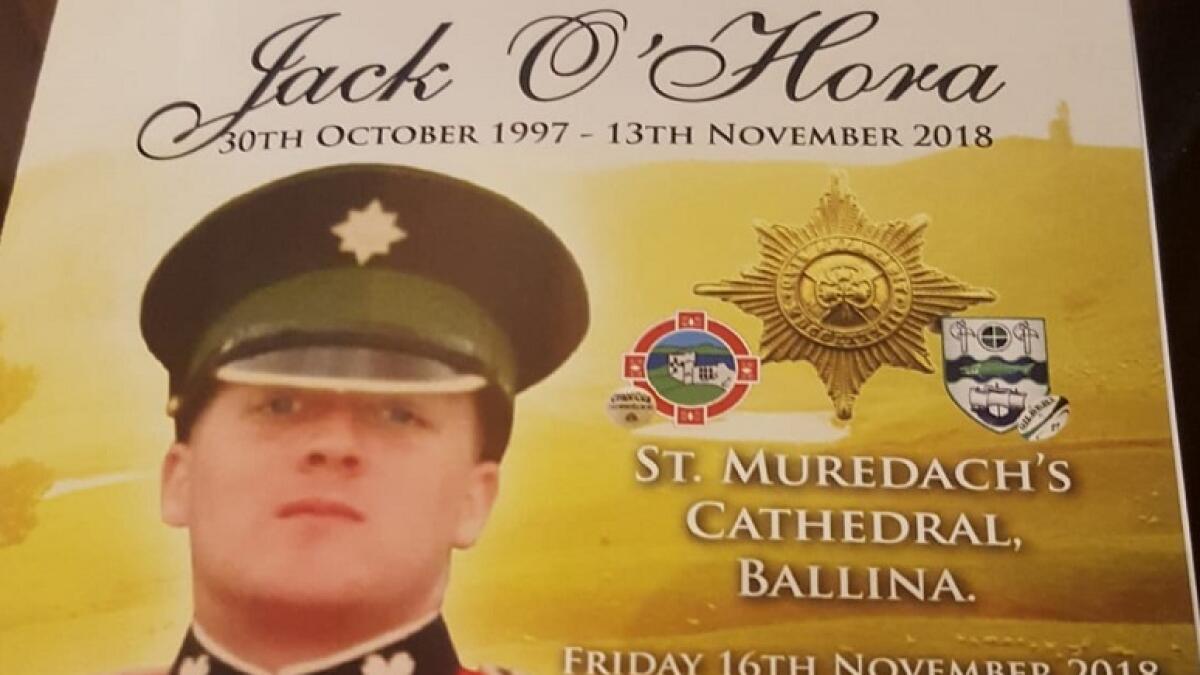 Scenes of intense grief at funeral of Mayo crash victim Jack O'Hora
LARGE numbers of mourners have attended the funeral today of 21-year-old Jack O'Hora, one of two young men killed in a road traffic accident in Ballina last Monday night.
The funeral of the second deceased accident victim, Ricky Langdon, St. Patrick's Estate, Ballina, who was aged 28, will be held tomorrow, Saturday.
The route to St. Muredach's Cathedral was lined with people this morning as Jack O'Hora's remains were brought there by hearse for Requiem Mass for the repose of his soul.
A guard of honour was provided by Mr. O'Hora's former teammates from the Castleconnor GAA Club in west Sligo.
Amid scenes of intense grief, Jack O'Hora's remains were brought from the cathedral and removed to Killanley Cemetery for burial.
Jack O'Hora, a serving soldier with the British Army who had been home on leave when Monday night's tragedy occurred, was a former student at St. Muredach's College.
Former classmates were amongst today's huge congregation of mourners.
Chief mourners are Jack's heartbroken parents Kieran and Caroline, sisters Hannah and Scarlet, and brother Danny, to whom deepest sympathy is tendered.
In his homily, Fr. Liam Reilly, the chief celebrant of funeral Mass, said a dark cloud had descended on the Ballina commiunity since the tragic deaths on Monday night.
He pointed out that Jack had been a young man "heading towards the prime of life with the world at his feet."
Fr. Reilly went on to say that since the tragedy he had nothing but kind words uttered about Jack.
"He touched so many lives in so many positive ways," the curate continued.
"There will be a Jack shaped vacancy in all your lives from now on", the priest continued.
Fr. Reilly concluded his homily by impressing on younger mourners what he described as the "haunting fragility" of life.
"Cherish life," he urged mourners. "It is God's gift to you all. Cherish your family every single day.
"Be careful. You owe it to the memory of your wonderful friend, Jack O' Hora."
John Smyth, speaking on behalf of the O'Hora's, said Jack's death had not only been a family loss but the young people of Ballina had also lost a dear, dear friend.
At the graveyard in Killanley, a bugler from the Irish Guards sounded the Last Post as the remains were laid in their last resting place.
Ricky Langdon will be laid to rest tomorrow (Saturday) in Leigue Cemetery, Ballina, following Requiem Mas at half twelve in St. Patrick's Church.