BEST OF LOCKDOWN TV
(Above) David Gray - see below, and RTÉ 1, Thursday 10.15pm.
TOP PROGRAMMES THIS WEEK (STARTING FROM WEDNESDAY JUNE 10)
Staged (BBC 1, Wednesday 10.45pm)
David Tennant and Michael Sheen were due to star in a West End production of Six Characters In Search Of An Author – until the pandemic put paid to that. But their director, Simon Evans, knows how big a chance this is and cajoles his stars into rehearsing over the internet.
Hillary (Sky Documentaries, Thursday 9pm)
An intimate portrait of one of the most admired and vilified women in the world – Hillary Clinton. Interweaving revealing moments from the 2016 presidential election campaign and featuring exclusive interviews with Bill, Chelsea, friends and journalists.
David Gray: Ireland's Greatest Hit (RTÉ 1, Thursday 10.15pm)
The story of how David Gray, a broke Welsh singer, made an album in his spare room that became the biggest selling of all time in Ireland. This warm retrospective throws back to the blissful late '90s when Ireland was changing fast as we cemented our place in the big leagues. David Gray was the soundtrack to those exciting times.
Never Surrender: A Galaxy Quest Documentary (Sky Documentaries, Saturday 10pm)
You might not think you need a documentary of the cult 1999 sci-fi comedy movie starring Tim Allen and Sigourney Weaver in your life… But you do. It was a movie that beat all odds: Surviving a set fire and the loss of a powerful director, Galaxy Quest turned into a pop-culture phenomenon that would "never give up, never surrender."
The Secrets She Keeps (RTÉ 1, Tuesday June 16, 10.15pm)
New drama about two women from vastly different backgrounds – one with a seemingly perfect life, and the other who will do anything to emulate it. Set in Sydney and the Blue Mountains, the screen adaptation of Michael Robotham's bestselling novel stars Laura Carmichael and Jessica De Gouw – females with explosive secrets that could destroy everything they hold dear.
MOVIES OF THE WEEK
Dad's Army (RTÉ 2, Friday 9.40pm)
Catherine Zeta-Jones and Bill Nighy lead a British cast in this 2016 movie of the long-running television series about the Walmington-on-Sea Home Guard tracking a German spy as World War II draws to its conclusion.
Eye In The Sky (RTÉ 2, Saturday 12.40am)
Helen Mirren leads a starry cast including Aaron Paul and Alan Rickman as a military officer in command of an operation to capture terrorists in Kenya who sees her mission escalate when a girl enters the kill zone triggering an international dispute.
Annabelle Comes Home (Sky Cinema, from Friday)
Demonologists Ed and Lorraine Warren are determined to keep Annabelle from wreaking more horror havoc, so they lock the possessed doll behind sacred glass in a special room in their home. Great idea in theory – not so good in reality.
The Kitchen (Sky Cinema, from Saturday)
Melissa McCarthy, Tiffany Haddish and Elisabeth Moss star as the 1978 Hells Kitchen housewives who are married to the mob. When their husbands are sent to jail, the three ladies take the Irish mafia's into their own hands – proving unexpectedly efficient at running the rackets and taking out the competition.
CLASSIC MOVIE
The Dead (RTÉ 1, Saturday 11.55pm)
Not what you might call light-hearted, but still one of Ireland's more important films. Directed by John Huston and starring Anjelica Huston and Donal McCann, it's based on the James Joyce book, and charts the events of a January dinner in Dublin which results in an epiphany for those present.
KIDS STUFF
Artemis Fowl (Disney+)
Director Kenneth Branagh brings Eoin Colfer's popular children's fantasy book series to life, starring newcomer Ferdia Shaw as the 12-year-old criminal genius who kidnaps a fairy and forces it to help him locate his missing father.
Wolfblood (BBC iPlayer)
Teenager Maddy Smith is hiding an extraordinary secret about who she really is, even from her closest friends. But when new boy Rhydian turns up at school, Maddy's world gets a lot more complicated. Will he expose her for what she is – a wolfblood?
Genius By Stephen Hawking (Disney+)
Professor Stephen Hawking challenges volunteers to think like geniuses and solve some of humanity's most enduring questions. What, Why and Where are we are covered, as well as Are We Alone and Can We Time Travel.
All Dogs Go To Heaven (Netflix)
When a casino owning dog named Charlie is murdered by his rival, he finds himself in Heaven by default; however, since he wants to get back at his killer, he cons his way back to the living with the warning that doing that damns him to Hell.
ON DEMAND
Knives Out (Amazon Prime)
Wealthy crime novelist Harlan Thrombey invites his family to his mansion for his 85th birthday party, only to end up dead the next morning. The police believe it was suicide, but not private detective Benoit Blanc who is asked to investigate. Daniel Craig leads an all-star cat.
13 Reasons Why Season 4 (Netflix)
After they discovered the truth about Bryce Walker's murder at the end of the last season, what's in store for the Liberty High seniors this time around? The teen drama is never without its controversy.
Gina Brillon: The Floor Is Lava (Amazon Prime)
No nonsense Brooklyn comedian Gina Brillon discusses her childhood, culture and the transition from single to married life with her Midwestern husband.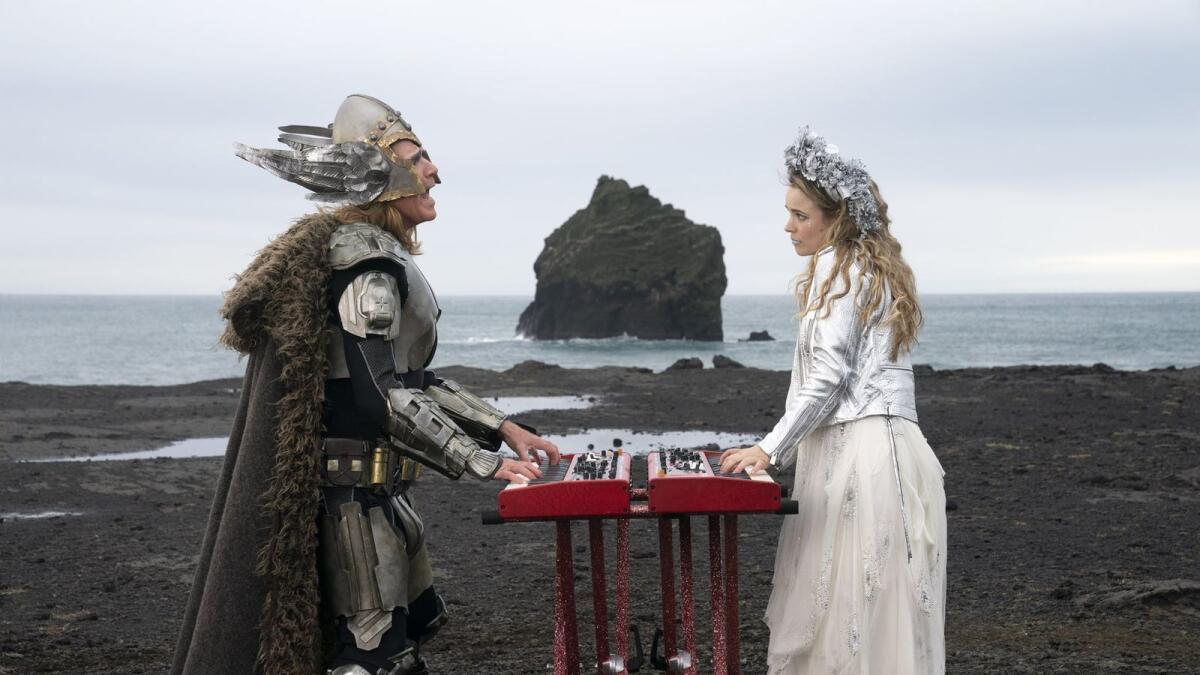 Eurovision Song Contest: The Story of Fire Saga (Netflix)
Co-written by the Anchorman star and directed by Wedding Crashers' David Dobkin, this wacky comedy follows an Icelandic singing duo, played by Will Ferrell and Rachel McAdams, as they represent their country at the international event. Don't think Dana will like it.
THE PERFECT 7k PODCASTS
My Dad Wrote A Porno
The title pretty much says it all, and each week Jamie Morton, along with friends James Cooper and Alice Levine, reads a new chapter from his dad's interesting attempt at erotica. The fact that it's gotten 200 million downloads is a reasonable recommendation.
Three Castles Burning
Telling lesser know histories from Dublin's chequered past is the latest addiction from Donal Fallon, creator of the iconic blog Come Here to Me. It's been 50 years since the death of Arkle, considered the greatest race horse of them all, a story that mingles jockey Pat Taaffe, Guinness advertising, and Dominic Behan.
The Show Must Go Online
The Nance (www.lct.org)
Visit the legendary Lincoln Centre online for this tragic-comic tale set in the 1930s and recreating the naughty, raucous world of burlesque's heyday when it was 'easy to play gay but dangerous to be gay.' Nathan Lane stars.