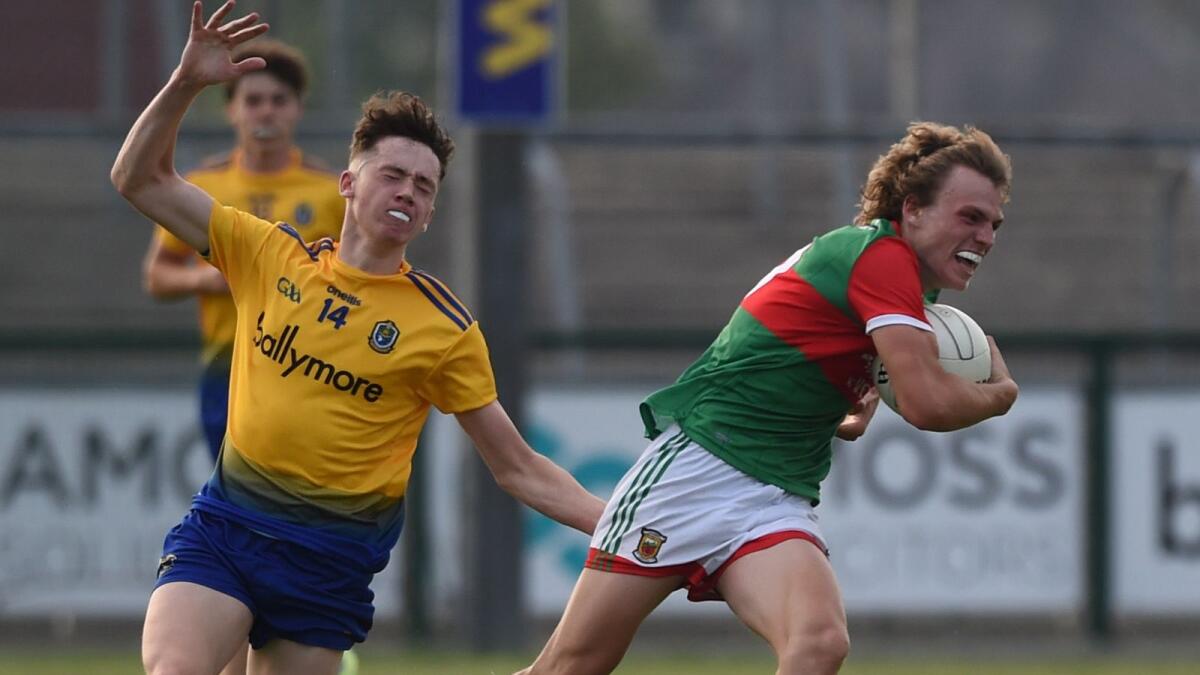 Mayo Under 17s taken out by Rossies in thriller
The Mayo minors fell at the first hurdle as four first-half goals from Roscommon did the damage in a thrilling Connacht GAA Under 17 championship quarterfinal at Hyde Park this evening, the game finishing 4-13 to 2-12 in Roscommon's favour, writes Stuart Tynan.
Mayo were 0-3 to 0-2 up after 10 minutes before Ronan Clarke was twice denied what looked a certain goal by Roscommon goalkeeper Sean Kelly.
They were punished instantly as Ryan Conlon won a penalty for Roscommon after he was brought down by Mayo full-back Jack Walsh, which Conlon duly converted.
Roscommon found the net again moments after the first water break through Shane McGinley before Colm Neary raised a green flag for Roscommon's second goal in the space of 90 seconds.
Points from Bobby Nugent and Neary strengthened Roscommon's lead before Mayo were awarded a penalty of their own after James Maheady was nudged in the area. Fiachra Cruise saw his penalty saved by Sean Kelly but duly converted the rebound.
Robert Heneghan immediately replied with Roscommon's fourth goal and while two Ronan Clarke frees reduced the deficit, Bobby Nugent had the final word of a scintillating first half with a fine score to see Roscommon take a 4-6 to 1-8 lead at the interval.
The pace of the second half slowed, with Roscommon sending over three points to Mayo's two, but Ben McHale's goal before the second water break made it a six-point game going the final quarter.
However, Mayo were not able to find the goals to take this game into extra time, with an injury time free by Robert Heneghan sealing Mayo's elimination.
Roscommon: S. Kelly, D. Casey, C. Harley, J. Brady, J. McGreal (0-1), E. O'Reilly, S. Lambe, S. Walsh (0-2), D.J. Hession (0-3), R. Hester, R. Conlon (1-0 pen), B. Nugent (0-4, 2f), R. Heneghan (1-1, 1f), S. McGinley (1-1), C. Neary (1-1). Subs: O. O'Flaherty, P. Higgins, R. Carthy, A. Durr, A. McGreal.
Mayo: T. Burke, L. Silke, J. Walsh, B. Cllins, C. Corless (0-1), J. Ferguson, C. Dawson (0-2), S. Morahan, D. Duffy, S. Neary, F. Cruise (1-1), T. O'Flaherty, J. Maheady, R. Clarke (0-5f), P. Deane (0-2, 1f). Subs: A. Browne (0-1), B. McHale (1-0), C. Mulroy, A. Beirne, S. Sweeney.
*Full match report in Tuesday's print edition.