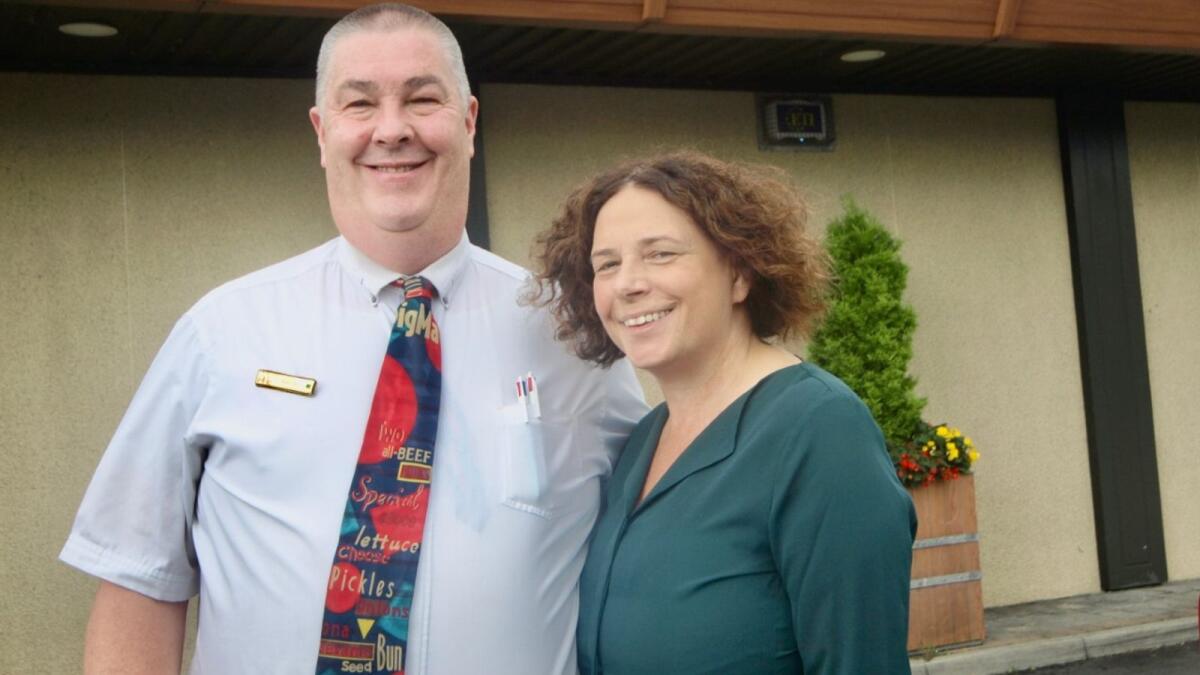 McDonald's Restaurant Celebrating 23 years in Castlebar
There is no age barrier when it comes to joining the staff at McDonald's Drive-Thru restaurant in Castlebar. The franchise holders for the past 20 years, Martin and Rhoda Cramp, cannot emphasis enough that maturity and flexibility are the key components in joining their team.
McDonald's opened on a greenfield site in Castlebar in 1998, long before the adjoining Tesco and Mayo Peace Park were developed. Martin started working in McDonald's when he was a part-time employee. He said: "I was working for The Irish Times at the time doing sports and writing for local newspapers. "After a short period in McDonald's they asked me to become a manager, which I did. For the next 15 years the two of us worked all over Dublin."
Rhoda took up the story: "In 2001 we were offered the opportunity to take a franchise here in Castlebar. So, we moved from Dublin and left all our family and friends behind." Rhoda said: "Our three kids were very young when we moved here, they were aged two, five and seven. Mayo is now home to them. We had no Dublin flags flying in our garden. They would not be impressed if there was. They are very, very strong Mayo people. We ourselves are very involved in the community here."
Martin was president and treasurer of Castlebar Rugby Club for a number of years, and he also coached there. He said: "We support lots of different clubs - the underage rugby, Breaffy GAA, Manulla Football Club, the kick boxing club, the swimming club, and the tennis club. "We believe in putting something back into the community not just being a taker."
The couple employ up to 90 staff, most of them local, as Rhoda explained: "The staff numbers varies from 80 to 90. At Christmas we would be right up there at 90. We have a lot of people here with us since they came to us in transition year (TY). We run a very strong TY programme and we take on a lot of these kids." Martin added: "In the store at the moment we have probably 15 groups of family members. We would hire a daughter and she would suggest a mother or sister." Rhoda emphasised: "The flexibility is key for them. They can work their lives around their work here. have a crew person who works from 7.30 a.m. to 2 p.m. when she can go home and mind her family. Others work the night shift, so they have the day off."
McDonald's opens at seven o'clock in the morning to 11 at night Sunday through to Wednesday and Thursday, Friday, and Saturday they are open until midnight. Martin told me: "We were lucky that we upgraded to a dual lane drive-thru with two order points just before the pandemic. Now it is great that we can have people eating sitting inside with vaccination passports.
"We buy a huge amount of Irish beef. Our milk and shake mix and cheese comes from Ireland. Not only that but we export a massive amount back into the McDonald's system. A lot of our beef comes from Ballyhaunis. "Someone said we must have educated a large portion of the town because we had scholarships going on for years and years with up to €1,600 or €1,700 to go towards their education. That was a competition between all the McDonald's. The people here had won it seven or eight times. "All our managers would do online and blended learning, going to either the UK or Dublin to do their management courses."
Rhoda said a lot of their courses start with first aid, adding: "All of our managers have basic first aid, something that stands to them for the rest of their lives. We also do courses in customer care and food safety, and they get more and more advanced as they go on." Martin said: "Recently we had a competition and a draw with all the staff included for a €1,000 laptop and other various prizes as we had a lot of guys going back to college. "When someone is in Leaving Cert year, they don't have to work that year if they want. But we will take them back for the summer. That is very important to us. All the people who work for us get exam leave coming up to exams." Rhoda added: "That is why we carry so many staff. It means that when someone really needs to go home for six months, we don't have to say no."
Referring to the age of employees, Martin said: "We have employed a mixture of ages, everything for 16-year olds to 60 plus. There is no barrier. We have had people come back to help us that were in their 50s and 60s. There is no age limit. "If you are willing to do a job, if it is only for a couple of mornings a week, or a couple of nights a week, you are welcome to apply and you will be treated the same as everyone else."
Rhoda continued: "Maturity is very welcome here. We can do nights. We can do mornings, weekends or whatever you want. We can basically work anything. "For example, we have one lad who only works a Sunday as it just suits him. We have people who are studying medicine in Dublin, and they do one shift a month. But then they are available at Christmas, and they are great employees. They do it with a heart-and-a-half because they are so excited to be back. "We were working with a restricted menu for a while during Covid but we are very happy to say it is all coming back now once we can remove some of the restrictions in the kitchen."
Martin said they do an extensive breakfast menu with eggs, bacon, sausage, and pancakes. They carry the full range of coffees, which is probably their biggest selling point. He added: "For the main menu we do the iconic Big Macs, the quarters with cheese, the nuggets, the happy meals, and all the new drinks. "Our French fries are from russet Burbank potatoes. They come from the UK. "We don't have the growing soil to grow them here. The soil needs to be sandy and dry. "There is a mad statistic that if you eat 10 McDonald's hamburgers in Europe between four and five of those are made from Irish beef. We have always used Irish beef. It is so good we want to export it."
If you would like to join the team in McDonald's apply online at McDonalds.ie or simply drop into the restaurant for an application.