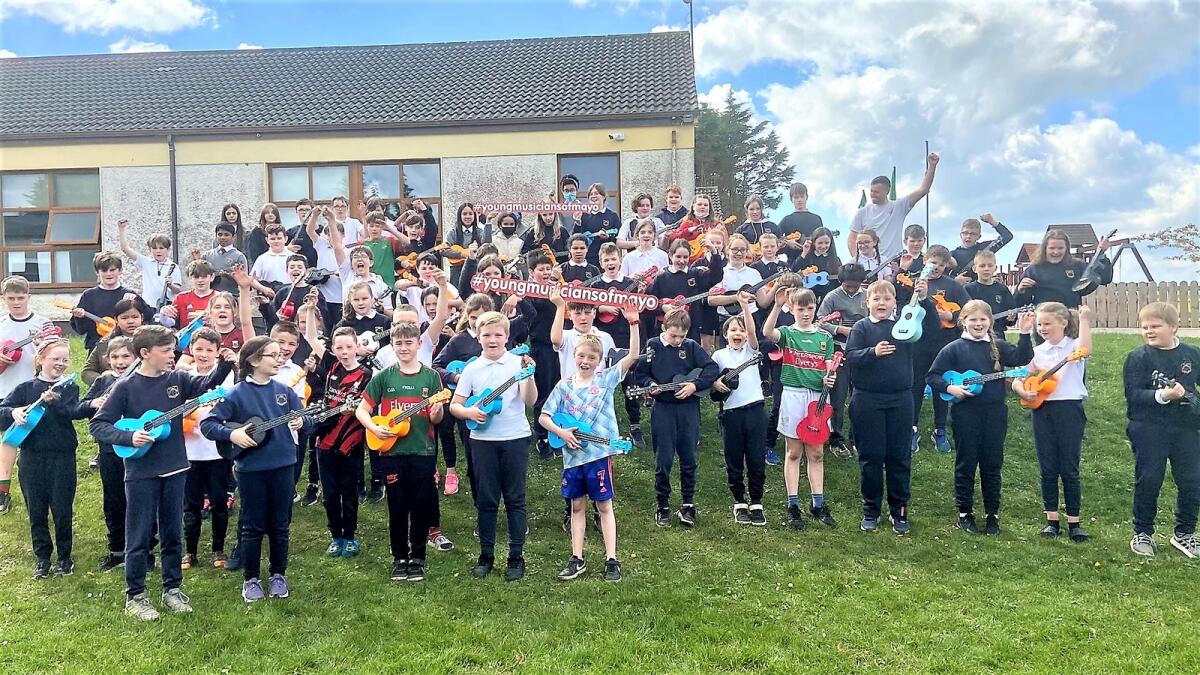 Cast of over 900 for Music Generation Mayo concert
NEARLY 1,000 young musicians from Music Generation Mayo will be appearing at the Royal Theatre in Castlebar from 7 p.m. on Thursday, May 26, as part of Music Generation Mayo's #youngmusiciansofmayo concert.
Members of Music Generation Mayo's Harp Ensemble, Uillean Pipers and Céilí Ukulele programmes will be showcasing their talent and love of music.
Music Generation Mayo has been providing access to quality performance music education for 11 years and its young musicians can't wait to get back on the stage.
The Music Generation Mayo Harp Ensemble gives opportunities for young harpers from throughout the county to play and work together. The ensemble operates under the musical direction of Gráinne Hambly and William Jackson, acclaimed musicians and composers with many years of experience performing worldwide.
The ensemble has performed on RTÉ, at Mayo International Choral Festival, Westport Mac Luí Children's Arts Festival, Achill International Harp Festival, An Chúirt Chruitireactha, Tionól for Harps and Pipes and most recently at St. Patrick's Festival 2022 in Dublin.
They are currently preparing to attend the World Harp Congress 2022 in Cardiff, Wales.
Music Generation Mayo Uilleann Pipers are led by Grammy award-winning Emer Mayock and the renowned Diarmaid Moynihan on Saturday mornings in Castlebar. The young pipers - some of whom are coming to the pipes from other traditional instruments - engage with the piping tradition and encouraged on their journey with this notoriously tricky instrument.
Members have performed in local venues with their mentors, as well as on International Uilleann Piping Day, while some have also performed in the Royal Theatre before for a television special.
Ceili Ukulele is a programme aimed at fourth and fifth class students who build their engagement with music through singing and the ukulele. Led by Jamie Mulrooney and Keif Mullis, young musicians play and sing songs from the classics to the latest hits, engaging in music in a fun, active way, while learning the fundamentals of music performance.
With 992 ukulele musicians involved in the programme, this promises to be a fitting finale to the evening!
Initiated by Music Network in 2010, Music Generation is co-funded by U2, The Ireland Funds, the Department of Education and Local Music Education Partnerships (LMEP). Music Generation Mayo LMEP comprises Mayo, Sligo and Leitrim Education and Training Board, Mayo County Council Arts Service and Community and Integrated Development, Mayo Local Community Development Committee and Mayo Education Centre.
Now, over a decade on, it is anticipated that in 2022 alone, Music Generation will reach 80,000 programme participants nationwide.
Tickets for #youngmusiciansofmayo are on sale now at www.ticketmaster.ie and the Royal Theatre, Castlebar. All tickets are €8.