Sligo Bakery and Coffee Shop proving a big hit in Mayo county town
It's a little over a year since the famous Sligo Bakery and Coffee shop opened in Castlebar and it is fast becoming a hit with locals and shoppers.
Situated in the heart of the shopping quarter on Hopkins Road, the shop offers the ideal stop off for breakfast, lunch, baked treats and coffee while in town.
O'Hehirs is a family-run artisan bakery which prides itself on using traditional methods to create delicious handmade breads, pastries and celebration cakes.
Their craft bakers use traditional skills and methods to hand create a range of artisan breads known for their excellence due to the quality of the ingredients used in each loaf.
Established in Sligo in 1984, O'Hehirs have Bakery & Coffee Shops in Donegal, Mayo, Galway, Longford and Westmeath.
The Castlebar Coffee Shop is more than capably managed by Judit L. Juhasz.
Judit has over 10 years of experience in the hospitality business.
She is keen to point out that the delicious food and barista coffee along with the excellent service from her team is proving the winning formula.
"It's wonderful to work with a company like O'Hehirs who really value serving high quality fresh food.
"For example, it's so unique that a coffee shop like ours can offer a range of sandwiches from bread that is baked in our bakery daily. The food we serve couldn't be any fresher."
The breads used in the O'Hehirs mouth-watering signature selection of sandwiches are baked each day in the bakery, from the delicious multi seed bread to the flatbread.
Along with food, the coffee served is exceptional.
An extensive coffee menu is provided with fairtrade coffee beans roasted in Ireland.
All staff are Barista trained and customers can avail of every 8th tea or coffee free as part of the loyalty programme.
All food, coffee and bakery is avail for sit it and takea way, customers can also pre-order for collection on (094) 903 8689.
Judit mentions that take away and pre-orders became popular during the pandemic but are still a big part of the business for her.
"We get lots of calls for pre orders from the staff working in local businesses and we are delighted that they return to us on a regular basis.
"We are very thankful to all our customers and its a pleasure to get to know and serve more and more every day. We enjoy meeting and chatting with our customers."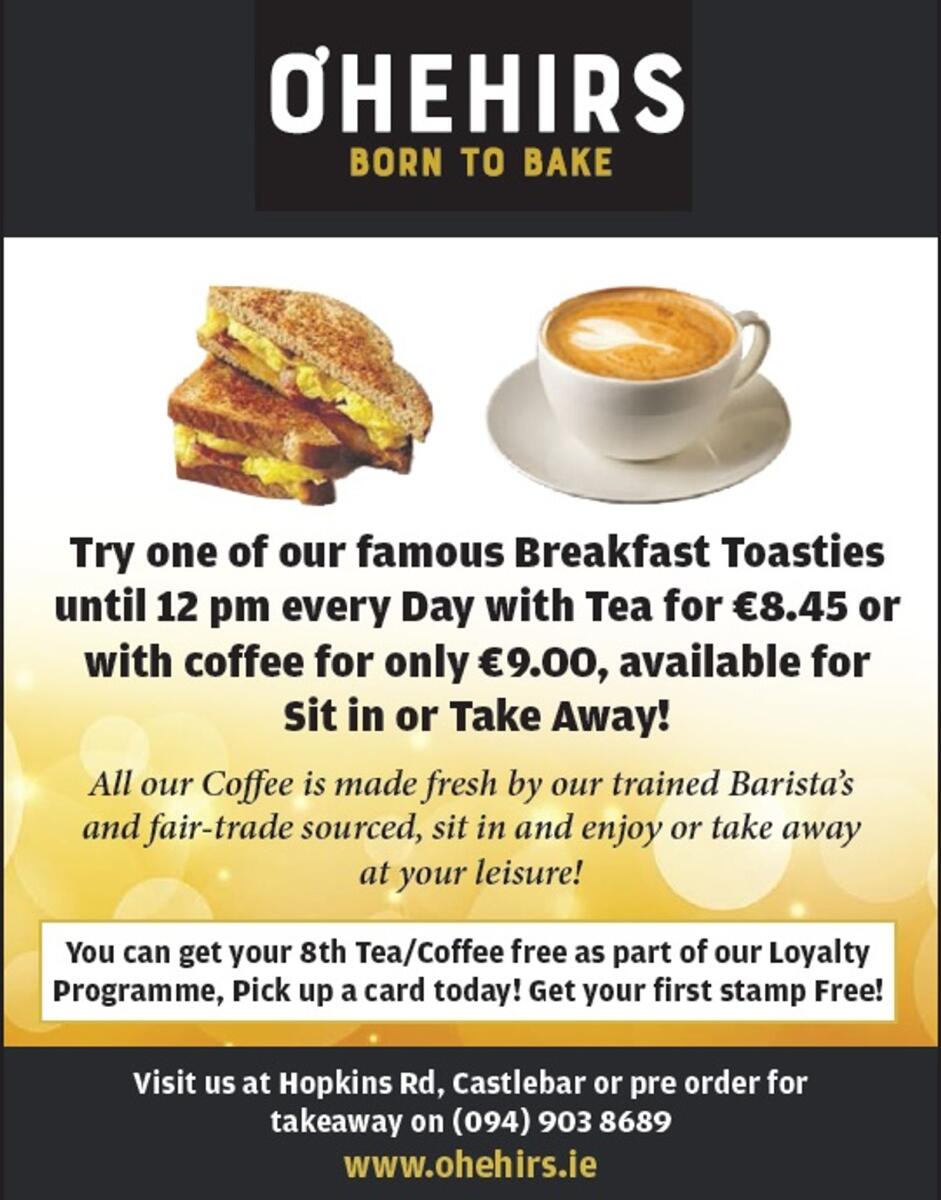 The coffee shop has ample seating along with clean customer toilets and is open Monday to Saturday from 9 a.m. to 5 p.m.
Check out O'Hehirs in Castlebar today, the coffee, fresh food and bakery treats are well worth the visit.