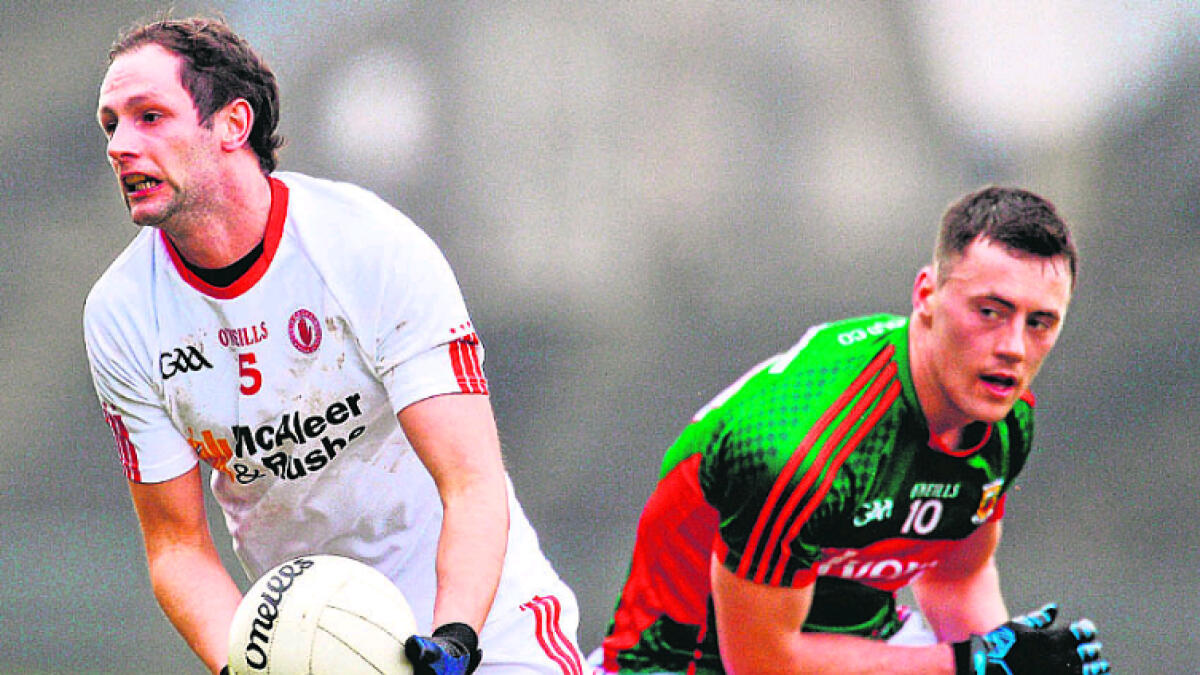 Mayo smothered by tyrone blanket
The fog may have lifted in plenty of time for both Mayo and Tyrone to see their way through Sunday's national league football round two tie at MacHale Park, Castlebar, before a crowd of over 10,000 but the blanket defence laid on by the visitors choked the life out of the game and smothered Mayo in the process.
One of Castlebar's well known characters, the late Jimmy Foy, was known for the phrase 'come up for air' when he'd throw a sporting question at you and it came to mind as I drove through the fog from Dublin on Sunday while listening to Midwest Radio relay the happenings at GAA headquarters in Castlebar.
John Casey and Billy Fitzpatrick sounded like two men who got a call from the tax men telling them that the rebate they got last week in the form of that cheque in the post had been a mistake and they must return all funds, plus interest, immediately. Mike Finnerty was searching desperately to find something positive to say as the game in the second half turned into something of a farce and, in the end, all three were put out of their misery when the final whistle sounded.
Not normally stuck for words, Casey was trying hard to make sense of the whole thing but was finding it hard to explain what had gone wrong, while you felt Billy Fitz would probably have had a more fulfilling day if he had gone down to the local pitch in Claremorris and practiced his free-taking. There still may be a chance of a recall to the Mayo team for a man who is fast approaching (or has he passed?) the 70 mark.
Finno knew, and so did the listeners to Midwest, that it was going to be a bad day when they shot over to hear round two of the Battle of Clontarf, and when Michael Gallagher came on the line my first thought was that someone had died, given the seriousness of Michael's voice. As it transpired, it was just the dream that had expired of Westport United making the last eight of the FAI Junior Cup as they were now 3-0 down to Sheriff YC.
Now, it wasn't all bad news. Cora Staunton, as she has done so often in the past, had single-handedly lifted the women by their breeches to beat Laois and get their national league show back on track. Where would we be without Cora?
But I digress. Back in Castlebar the cavalry had been sent in, with Cillian O'Connor, Barry Moran and Alan Dillon dispatched to the front in a bid to slavage a Mayo ship that was listing very heavily. O'Connor delivered the goal but the heart was taken out of Mayo's game, quite literally, when Peter Harte responded with a tremendous Tyrone goal. Game over.
Apart from a brief period in the opening 20 minutes, Mayo were never allowed come up or air as Tyrone sucked the life out of them, with 15 men behind the ball at times.
For the new management team of Pat Holmes and Noel Connelly it was something of a reality check. Having left the house in order with an opening round win over Kerry in Killarney the previous week, the Mayo management team came home to discover the place had been ransacked.
The only items of note stolen in the break-in were two league points but left on the table was a calling card which read 'Welcome to the real world of Gaelic football. The league starts here and now'. It was signed by Mickey Harte and the boys.
Of course, we should have been on our guard. The Tyrone men had taken a barracking from their supporters having lost to Monaghan the previous week. It wasn't the defeat that annoyed the proud people of Tyrone but the manner of the capitulation, a word that does not fit into the Tyrone football lexicon - particularly under Mickey Harte, who has guided his county to three All-Ireland titles.
And so Castlebar was to be the place where the record would be set straight and Tyrone football would begin to live and breathe again, a testament to the managerial skills of the Tyrone manager who remains up there with the top men such as Micko and Heffo. It is a bit too easy to argue Mayo were not allowed to perform and to suggest a scapegoat in blaming Tyrone for bringing Gaelic football into disrepute with the negative tactics they deployed. But maybe Mayo might be better advised to win ugly now and again as attractive football, like we saw against Kerry in Killarney, will not always win you games.
The more perplexing aspect to this performance was the 15 wides Mayo kicked, many of which were well within a scoreable range, and it is a worry for management that a number of players refused to take on the responsibility of having a pot. This was not an inexperienced Mayo team that went into battle.
Pat Holmes was under pressure afterward when asked to explain the defeat and what positives could be taken out of the game. He had to think for a while but the former Mayo player did point out the team is clearly in transition and he was encouraged by the performances of the new players - and they will continue to inject new blood right through the campaign.
He also made a very valid point when he said you tend to learn more from losing a game than winning one, so we can only hope that Mayo have learned from this defeat. The problem now is a home defeat puts huge pressure on everyone ahead of the next round against Monaghan at Castlebar on Sunday fortnight. The luxury of two wins would have been a solid scaffolding to build for tough tests down the road such as Dublin and Cork, who will be serious opposition, while Derry and Donegal will also prove difficult obstacles, and Mayo will need two more wins under their belts to secure their division one status. That may be easier said than done, and the pressure is back on the team.
The honeymoon is clearly over but what is important over the coming week is for Mayo to get their heads down and make sure the marriage is going to work - and, like any relationship, that has to be built with trust and hard graft. We can't come back a week after watching the team beat Kerry and say they are useless.
If Pat Holmes is correct - and I don't have any reason to doubt him - then Mayo may have learned something from this defeat. Hopefully we will see what those lessons are in two weeks' time.