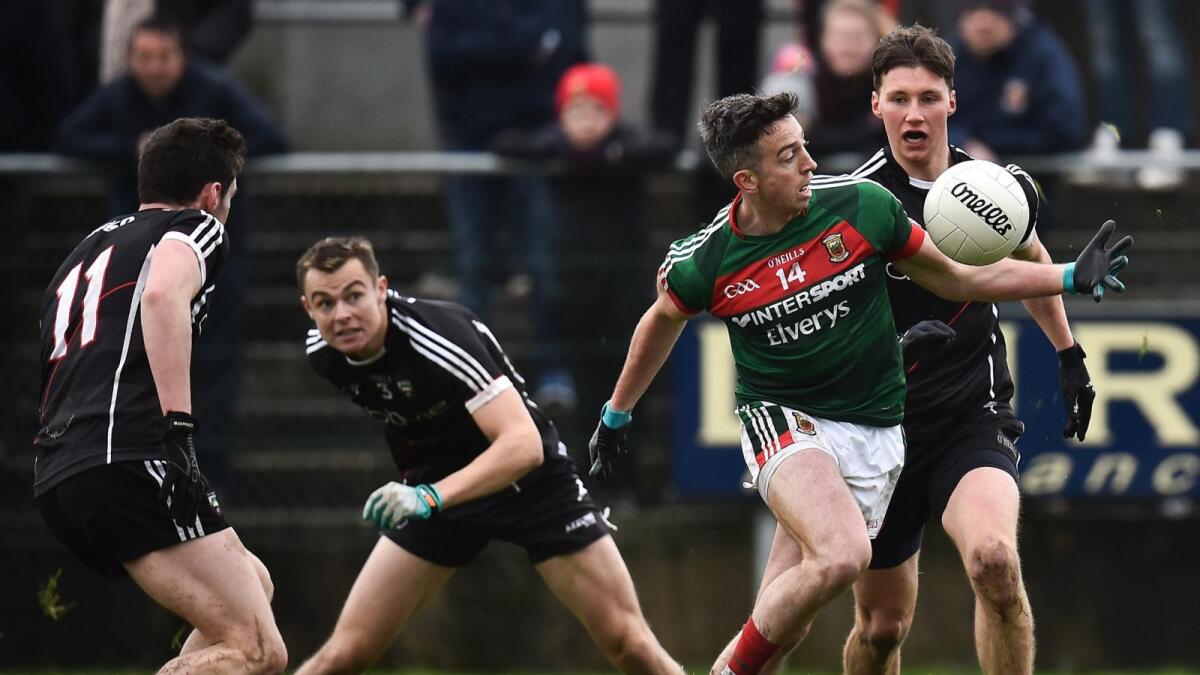 Mayo shape up for Monaghan challenge
MAYO got in a good workout against Sligo to complete their FBD Connaught League programme in a game which finally went ahead in James Stephens Park, Ballina, having been moved from Sligo to Enniscrone before Ballina came to the rescue.
Featuring nine of the All-Ireland losing side on the starting 15, this was an improved performance by Stephen Rochford's men in heavy but dry conditions.
Evan Regan caught the eye in the Mayo attack, while Kevin McLoughlin, Aidan O'Shea, Jason Doherty and Jason Gbbons all played solidly and look certain to start in Mayo's opening game in the National League against Monaghan next Sunday in Clones.
Mayo used the wind efffectively in the first half and led by 0-7 to 0-2 at the break, Doherty and Regan sharing the freetaking duties, while Paddy Durcan and Diarmuid O'Connor chipped in with a point each from play.
Sligo hit the ground running in the second half and reeled off a string of points to level the game at 0-7 apiece, Stephen Coen (namesake of Mayo's midfielder from Hollymount-Carramore) really lighting up the show, while Neil Ewing and Adrian Marren were also on target for the Yeats County.
However, it was the only goal of the match which turned the game for Mayo as Regan's superb free into the wind broke in the danger zone and Doherty was first to react to finish it to the net.
Aidan O'Shea followed up with a point from play and it was enough to see Mayo earn only their first win in the league having drawn with Leitrim and a loss to both Galway and Roscommon.
It finished Mayo 1-10, Sligo 0-11.
Mayo: D. Clarke, B. Harrison, G. Cafferkey, E. O'Donoghue, C. Boyle, M. Hall, P. Durcan (0-1), J. Gibbons, S. Coen, K. McLoughlin, A. O'Shea (0-1), D. O'Connor (0-1), J. Doherty (1-4, 4f), E. Regan (0-3, 2f), A. Moran.
Subs used: F. McDonagh, C. Loftus, S Akram, S. Nally, G. McDonagh.
Sligo: A. Devaney, M. Gordon. L. Nicholson, E. McGuinness, K. Cawley, D. Cummins, G. O'Kelly-Lynch (0-1), J. Clarke, P. O'Connor, N. Ewing (0-1), F. Cawley, A. Marren (0-2, 2f), D. Coen (0-5, 3f), P. Hughes, K. Cawley.
Subs used: N. Murphy (0-2), R. Donovan, S. Carrabine.
Referee: E. O'Grady (Leitrim)