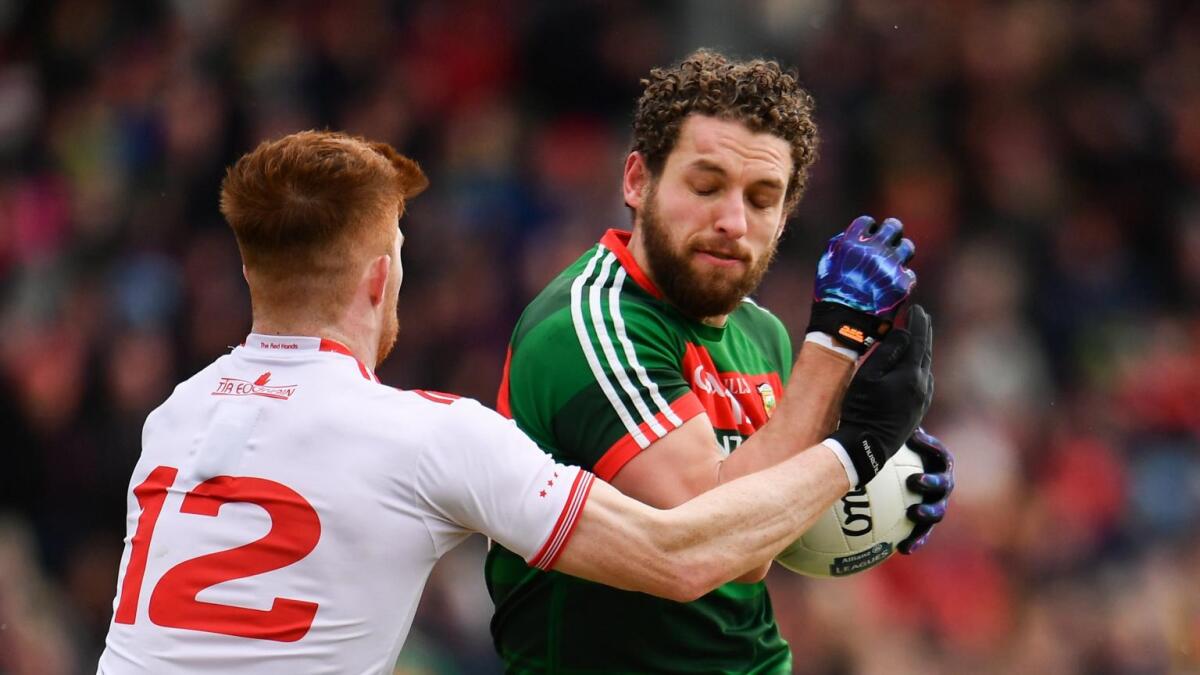 Keegan injury adds to Mayo's relegation woes
A DAUNTING journey to Ballybofey next Sunday faces Mayo, who moved perilously close to the relegation trap-door following their worst league performance this year, which saw them crash to Tyrone at a bitterly cold but dry Elverys MacHale Park, Castlebar, before a crowd of just over 10,000 people.
Mayo supporters were streaming out of the pitch with 15 minutes remaining as Mickey Harte's side took control of a game which produced two sending offs - one a straight red for Tyrone's Padraig McNulty for a bad challenge on Lee Keegan, while Colm Boyle also picked up a second yellow card 20 minutes into the first half, leaving both teams with 14 players.
The game also saw two black cards produced, Andy Moran sent off for seemingly impeding the referee while Colm Cavanaugh also saw black in that first half for an off the ball incident.
The chaos on the pitch was reflected in Mayo's game, which lacked leadership and direction as they managed just one point for the first 35 minutes, and that came from Tom Parsons after just three minutes.
They managed to stay in the game with two more pointed frees from Conor Loftus in 10 minutes of injury-time, which was necessary to allow for a long delay while Tyrone's Hugh Pat McGeary was stretchered off the pitch with a bad leg injury following a collision with Boyle.
But it was Tyrone who were well on top at half-time, leading by 0-8 to 0-3, but the visitors effectively sealed the points when Lee Brennan danced through the Mayo defence before firing home their first goal inside three minutes of the restart.
Mayo failed to get on the board again for 24 minutes of that second half when substitute Fergal Boland finally ended the scoring famine, but the Tyrone horse had long since bolted, the coup de grace delivered by Tyrone substitute Conal McCann, who beat David Clarke with a bullet.
To add to Mayo's woeful day up front, Conor Loftus drove a penalty well wide deep into injury-time following a foul on Mayo's best player, Tom Parsons.
What will be more worrying now for manager Stephen Rochford is how strong a hand he will be able to play against Donegal with Keegan now unlikely to be available due to a shoulder injury. Cillian O'Connor, too, left the field after 10 minutes when he was also injured.
A draw will be enough to keep them safe but on this performance it is Donegal who will be expecting to take advantage of what has been a dramatic drop in form by Mayo who will need to dig very deep if they are going to avoid demotion for the first time ever since the league was restructured.
Final score: Tyrone 2-14, Mayo 0-8.
Mayo: D. Clarke, C. Crowe, G. Cafferkey, E. O'Donoghue, C. Boyle, L. Keegan, S. Coen, T. Parsons (0-1), A. O'Shea, K. McLoughlin, D. O'Connor, J. Doherty, C. O'Connor, A. Moran, A. Gallagher.
Subs used: C. Loftus (0-5, 4f) for C. O'Connor (inj, 10), P. Durcan for Keegan (inj, 34), S. O'Shea for A. Moran (40), F. Boland (0-1) for Doherty (55), N. Douglas (0-1) for D. O'Connor (55), C. O'Shea for A. O'Shea (60).
Tyrone: M. O'Neill, HP McGeary, P. Hampsey, C. McCarron, C. Meyler (0-1), F. Burns (0-1), P. Harte, C. Cavanaugh, P. McNulty, M. Donnelly (0-4), N. Sludden (0-1), C. McShea, L. Brennan (1-3, 1f), C. McAliskey (0-3, 3f), M. Bradley.
Subs used: M. McKernan for McGeary (inj, 20), D. McClure (0-1) for Colm Cavanaugh (BC, 26), K. McGeary for Sludden (52), D. Mulgrew for Bradley (55), C. McCann (1-0) for McAliksey (58), R. Brennan for C. McCarron (66).
Referee: M. Deegan (Laois).