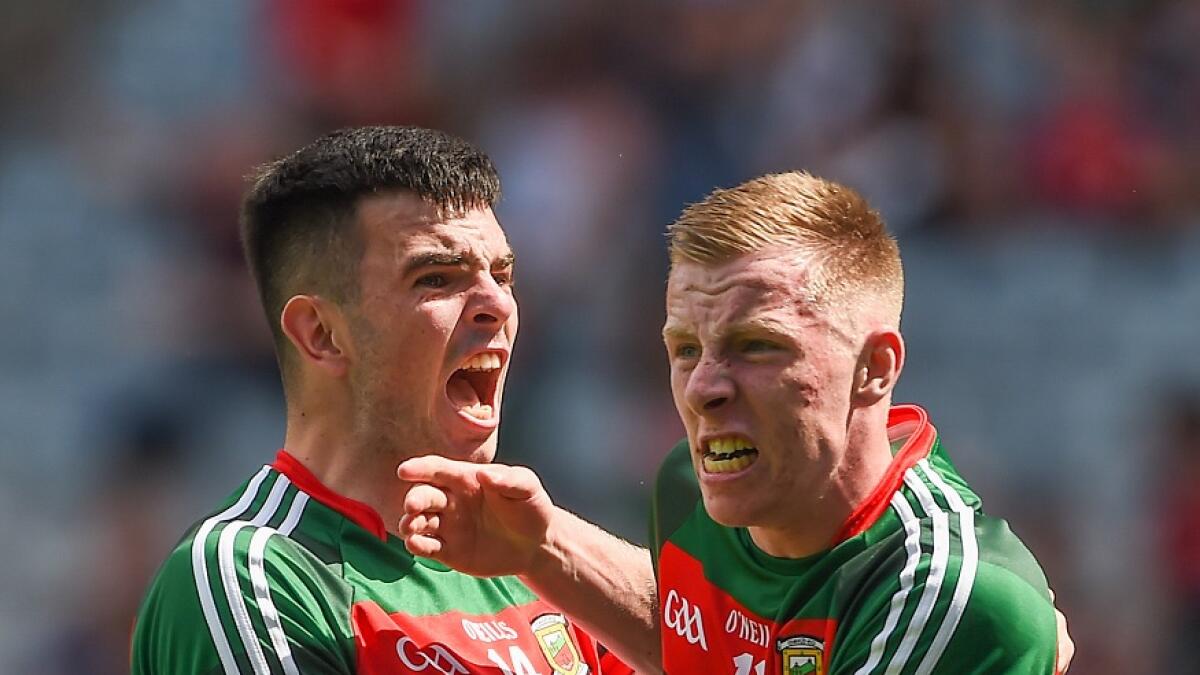 Late Croke Park charge fails to rescue Mayo
Kildare 1-18
Mayo 1-16
THE All-Ireland journey for Mayo Under 20s ended in bitter disappointment at a sunny Croke Park this afternoon where they met a Kildare side that just had the edge, particularly in the scoring department.
Mayo fought the good fight and never threw in the towel, coming from six points down to, at one stage in the second half, close the gap to two.
And a last-gasp effort for a goal from Ryan O'Donoghue skimming the crossbar for a point just before the final whistle sounded.
There was a controversial ending to the game as four minutes of injury-time was announced after Jordan Flynn was handed a straight red card for an apparent push on the referee.
The Crossmolina player took out his frustration on the match official after a calls went against Mayo and his team's indiscipline was further punished when he was followed to the line shortly afterward by Cathal Horan on a black card.
This was by no means a dirty game and produced some fine football from both sides.
But Kildare were never headed and in truth should have been a further ahead at the end but Mayo battled al the way to their credit.
Overall it way a fascinating game, the reputation that preceded the Kildare full forward line was fully justified as they hit some terrific scores, top gun Jimmy Hyland finishing on ten points, seven of those from play.
Mayo were fortunate enough to be trailing by just four points at half-time - 1-13 to 1-9- a period that will be remembered mainly for the superb point-scoring by the Kildare men,
What Mayo didn't want was to concede an early goal but the warning sings had been there with the Mayo full back under serious pressure and not helped by an early injury which forced John Maughan out of the game.
It was tied at 0-2 piece after five minutes but a long ball found Brian McLoughlin and the towering full-forward found the net leaving his marker for dead.
Kildare went 1-10 to 0-6 ahead when Ryan O'Donoghue produceda brilliant individual goal to get Mayo right back in the game and they were only down by four point behind at the break -1-13 to 1-9.
An early second half point from Conor Diskin, followed by another from Colm Moran. pared it back to two but that was a close as Mayo ever got.
Scorers for Kildare: Jimmy Hyland 0-10 (0-2fs), Brian McLoughlin 1-2 (0-1f), Aaron Masterson 0-2, Paddy Woodgate 0-2, Padraig Nash 0-1, Tony Archbold 0-1.
Scorers for Mayo: Ross Egan 0-6 (0-6fs), Ryan O'Donoghue 1-3 ( 0-1f), Colm Moran 0-3, Conor Diskin 0-1, Oisin McLaughlin 0-1, Evan O'Brien 0-1, Patrick O'Malley 0-1 (0-1 45).
Kildare: Aaron O'Neill; Mark Dempsey, Mark Barrett, DJ Earley, Stephen Comerford, Jason Gibbons, Jack Bambrick, Aaron Masterson, David Marnell, Darragh Ryan, Padraig Nash, Tony Archbold, Jimmy Hyland, Brian McLoughlin, Paddy Woodgate.
Subs: Matthew Betts Symonds for Earley (Black Card) 13 mins, Mark Glynn for Marnell h-t, John O'Toole for Bambrick h-t, Cian Costigan for Nash 42 mins, Sam Doran for McLoughlin (Black Card) 48 mins, Shane O'Sullivan for Woodgate 63 mins.
Mayo: Patrick O'Malley; Johnny Maughan, Brian O'Malley, John Cunnane; Paul Lambert, Cathal Horan, Oisin McLaughlin; Evan O'Brien, Jordan Flynn; Nathan Moran, Ryan O'Donoghue, Tommy Conroy; Conor Diskin, Ross Egan, Colm Moran.
Subs: Joe Dawson for Maughan 9 mins, John Gallagher for O'Brien 38 mins, Liam Hughes for Conroy 49 mins, Stephen McGreal for Moran 54 mins, Sean Og Tigue for Horan (Black Card) 62 mins.
Referee: Niall Cullen (Fermanagh)